Welcome to The Lawrence Law Group, P.A.
A Jacksonville, Florida, Law Firm Focusing on Injury,
Insurance and Nursing Home Claims.
"Justice. Served." is more than our motto; it is our mission statement. Justice can come in many forms. It can mean that a single mother receives compensation for lost wages and medical bills after suffering personal injuries in a car accident. It can mean forcing an insurance company to honor its end of the bargain after wrongfully denying payment. It can mean holding a nursing home accountable for negligent care of an elderly loved one, or making sure a long overdue business debt is collected. While the situations are all different, the bottom line is the same: getting you the justice you deserve.
In a perfect world, justice would take care of itself, but that is not always the case. Unfortunately, insurance companies are not always fair. Drivers are not always careful. Nursing home employees are not always diligent. Businesses do not always honor agreements. That is where we come in.
Justice often requires that cases get tried in a court of law. Although most cases are settled out of court, trying cases when a settlement offer is not fair is a must. Have you ever played poker? If a player bluffs all the time, but always folds at the end, you would simply call that player's bluff every time. The same holds true for trial lawyers. If an insurer knows that a plaintiff's lawyer is not willing or able to take a case to trial, the insurer will not offer much to settle the case. Jacksonville may be a large city, but it is a very small town when it comes to attorneys' reputations.
Insurance companies and opposing attorneys know which law firms in Jacksonville try cases and which ones routinely settle. How do we know this? Our lawyers used to represent insurance companies here in Jacksonville. By doing so, we learned the insurers' "playbook." We know how they evaluate cases, their strategies and their vulnerabilities.
We have tried cases in the Jacksonville area in federal courts, state courts and bankruptcy. We have tried cases involving automobile accidents, civil rights, , real estate disputes, business disputes, bankruptcy disputes and insurance claim disputes.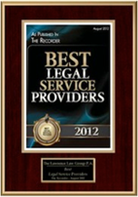 Personalized Service
Our firm focuses on the quality of cases we handle - not the quantity of cases. We do not advertise on television. We never will. We do not undertake the large volume of accident cases that some attorneys who advertise may handle. We pride ourselves on providing our clients with one-on-one service with an attorney. Your case will not be handed off to a paralegal. You will be able to speak with your attorney, either on the phone or in person, when you need to. You may not need to call us often, as we make it a habit to keep our clients promptly advised about their case.
Personal Injury
Suffering injuries due to the negligence of another can cause an incredible burden. Often, the injured person faces lost wages, doctor's appointments, transportation issues, medical bills, and disabilities, not to mention severe pain. Given these stressors, the complexities of preserving one's rights, investigating details, preserving evidence and completing paperwork can be simply overwhelming.
When you hire our law firm, we take the burden and stress off of your shoulders so you can focus on healing. Hiring our firm for any type of injury case costs you nothing unless we make a recovery for you.
Handling personal injury claims effectively is not something every attorney has the experience and resources to do. Our attorneys have handled injury cases since the beginning of their careers - starting by representing insurance companies. Doing so provides us the perspective of insurers, experience that has proved to be extremely helpful in representing injured people.
Our Jacksonville accident and injury lawyers handle a wide variety of personal injury matters throughout the greater Jacksonville area, including injuries resulting from: nursing home negligence; car accidents; boating accidents; trucking accidents; slip and falls; dog bites; workplace accidents; attacks occurring as a result of inadequate security; motorcycle wrecks; defective products; on the job injuries; workers' compensation cases; premises liability and uninsured motorist claims.
Read about our strategies in handling and trying personal injury cases here.
Review our advice to new clients with personal injury claims here.
Nursing Home Abuse or Negligence
It is sad to think that nursing home negligence and abuse occurs, but unfortunately it does and many times, it goes unreported. While some facilities provide excellent care, others are understaffed and have unsafe and unsanitary conditions. This can lead to a host of unfortunate scenarios for residents, including improper nutrition, infections, bedsores, sexual abuse, broken bones or even premature death.
When we agree to accept your nursing home negligence, we have the matter reviewed by an expert witness to determine if the nursing home was negligent or abusive. If the expert finds negligence or abuse, we hold the nursing home accountable. We advocate for our citizens who are least able to stand up for themselves. It is a shame that having to do so is even necessary.
Because nursing home abuse and negligence cases are subject to strict regulations, including requirements that must be met prior to filing suit, hiring a lawyer with experience in nursing home and medical negligence claims is critical. We have both the experience and resources to obtain justice for negligent nursing home care or abuse.
Insurance Disputes
You have paid your premiums for months or even years and now your insurer refuses to pay a legitimate claim. Our Jacksonville insurance lawyers handle cases where an insurance company refuses to hold up its end of the bargain. We have successfully represented clients who were left with no option but to sue to get the insurance benefits and coverage they purchased and deserve. We represent clients in the Jacksonville area who have disputes with their own insurers for all types of insurance policies including homeowners, automobile, life, health, commercial, bodily injury, disability, general liability, credit, and uninsured motorist.
Contact Us
Contact our Jacksonville, Florida, lawyers today. Our phones are answered 24 hours a day, seven days a week, 365 days a year. We are more than willing to meet you where it is convenient for you and at a time that is convenient for you - weekends and evenings included. Consultations are always free.